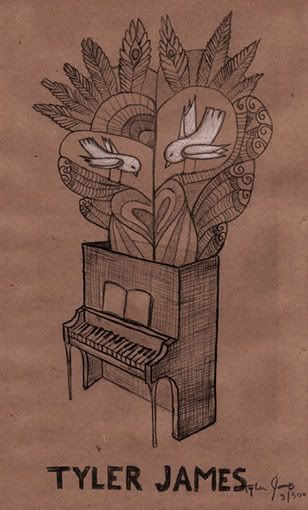 Nashville singer/songwriter Tyler James hasn't released his debut album yet, so now is a great time to start loving him, while you can still see him in tiny, intimate college venues.
I mean, seriously, check out his list of influences:
"bob dylan, paul simon, paul mccartney, joni mitchell, rainer marie rilke, nick drake, neil young, tom waits, the band, woody allen, jaoa gilberto, bill withers, randy newman, david bowie, mark kozelek, wilco, beck, four tet, jesus christ"
Does it get any better than that? Not in my opinion.
Visit his
MySpace page
. Or better yet, watch this excellent short film that follows him on tour and chronicles a day in the life of a Nashville singer/songwriter who is working on his first album. The song is "Stay Humble." And I love it.