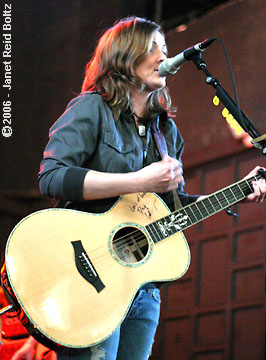 A friend gave me Brandi Carlile's
debut cd
about a year ago, and while I liked it well enough, especially the song "
Happy
," I felt like the production sounded too generic and the songs were perhaps a little too similar to each other to distinguish the album from the other legions of female singer-songwriters then in heavy rotation (it was the summer of KT Tunstall, Anna Nalick and the like.)
But last night, I had the opportunity to see Brandi Carlile live at Shank Hall in Milwaukee, and all I can say is... wow. You absolutely must see her live to fully appreciate her. The show was far-and-away amazing, definitely in my personal top 10. (Which, given the number of shows I've been to, is saying something.)Even more incredible was the fact that Carlile performed almost the entire show without a guitar - a finger injury earlier in the day prevented her from actually playing on most of the songs. So we, the attentive and enthusiastic audience in this tiny venue, were treated to an unparalleled demonstration of the amazing power of Carlile's unique voice as it rose stunningly over her band.
They played songs from both the debut album and the newly released
The Story
. "Fall Apart Again," a solid track from the first album, absolutely blew me away live. Another standout was the lovely three-part harmony of "
Josephine
" from the new album. She chose to both open and close the show with covers - Dylan's "The Times They Are A-Changin'" and Leonard Cohen's "Hallelujah" respectively (though I suspect Jeff Buckley's rendition was fresher in Carlile's mind) - and both were inspiring when filtered through that distinctive voice. Another cover, CCR's "Fortunate Son" was a scorching rocker that sounded amazingly fresh.
She's obviously a skilled live performer - she did everything right last night. She mixed up the set with the perfect blend of rockers, ballads, and covers with a twist; she led an audience sing-a-long during one song; she bantered just enough in between songs that we felt like a part of the process but kept the pace moving; and most importantly, she gave it EVERYTHING she had.
And it blew me away.
(To get an idea, check out the clip below. Carlile performs "Fall Apart Again" live in LA.)