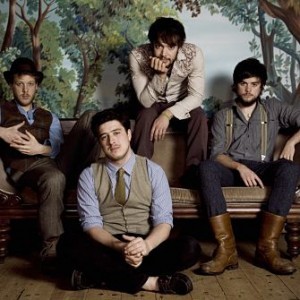 I think it's fair to say that the band America is best remembered (if they are remembered at all) for their 1972 AM radio hit "Horse with No Name," which is somewhat unfortunate, as that song has not aged as well as the rest of their catalog. That particular song sounds more trite and gimmicky now than it did when it was released, whereas the rest of their songs achieve a timeless blend of acoustic hooks and breezy vocal harmonies that evoke 70s-era California in the best possible way.
No song better illustrates their appealing folk-pop sound than "Ventura Highway," from their 1973 release
Homecoming
:
In this song, you hear a driving rhythmic insistence, complex minor-to-major chord progressions, a perpetual, jangly background guitar and beautiful vocal harmonies employed only on the choruses.
And if you're thinking any of that sounds familiar, it may have something to do with Mumford & Sons. Listen now to the ubiquitous "Little Lion Man" from their 2009 release
Sigh No More
:
Again you hear a driving rhythmic insistence paired with complex chord progressions. Again you hear beautiful vocal harmonies employed primarily on the choruses. And where America used a jangly, high-capoed guitar, Mumford & Sons famously uses a banjo to achieve the very same sound.
(It bears noting that America has influenced many bands that have come since. Fountains of Wayne's Adam Schlesinger cites them as a huge influence and even helped to produce their 2007 "comeback" album
Here & Now
.)
So if you like Mumford & Sons, remember... thank America.